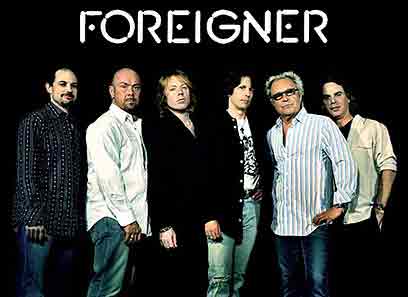 Listen Foreigner sample music now :
Foreigner is a rock band formed in New York City in 1976 by veteran musicians Mick Jones and ex-King Crimson member Ian McDonald, along with then-unknown vocalist Lou Gramm (Louis Grammatico). Foreigner has sold more than 50 million albums worldwide (including over 36 million in the United States alone).
Foreigner has been referenced multiple times on the show Aqua Teen Hunger Force. Most notably was the episode in which the Mooninites won the Belt of Foreigner at a local carnival, which according to Ignignokt, gives the wearer of the belt "all of the superpowers of '70s supergroup, Foreigner." The character Carl is also known to be a big fan of Foreigner, having seen them at the Meadowlands in '83. During this concert he copped a feel off a passed out "broad" and now whenever he hears the song "Urgent" he thinks of "her boobs covered in vomit". They also have three songs within the Grand Theft Auto video game series: one on Grand Theft Auto: Vice City, one on Grand Theft Auto: Vice City Stories, and one on Grand Theft Auto: San Andreas.